The ASV 40 cartoner has been designed to meet the demand of a rapidly increasing cosmetic market especially for the cartoning of products such as creams, lotions and perfumes.
The intermittent motion vertical cartoner ASV 40 is designed with the modern "Balcony" construction that makes it possible to completely separate the mechanical zone from the carton and product conveyor zone to thoroughly inspect the cartoner internal and, eventually, detect and clean batch products at the end of the production run. This allows complete accessibility, for cleaning, maintenance, inspection and size changeover operations. It's built in a very ergonomic way, making operator's interventions as easy as possible.
Latest ergonomic features (operator friendly), cartons, liners, leaflets, coupons, spatulas and other eventual components can be easily manually loaded from the front or back of the machine.
Features:
Balcony construction, as per GMP rules;
Compact Dimensions;
Maximum visibility for the whole process, thanks to completely transparent guards;
The carton is picked from the horizontal magazine, rotated and inserted directly into the carton transport system, which operates in a positive way;
Carton transport with 6 timing belts centrally adjustable with hand wheels and digital indicators to suit carton Width, Length and Depth ("A","B" and "C" dimension);
No contact with metal rails due to the fact that the transport belts travel with the carton.
Particularly low noise and Lubrication free thanks to advanced solutions adopted for product and carton conveyors
After the closing operation, lateral belts discharge the carton;
Touch screen control panel, for operator interface and machine management;
Self-diagnosis and help functions;
The carton transport system consists of scratch-proof white plastic toothed belts to insure package integrity, even when processing cartons with a high gloss finish. The ASV 40 cartoner is ideal for handling fragile or delicate products including cartons with internal liners;
Very short change-over time;
Available in two different versions: ASV 40 Standard, suitable for three operators working, or ASV 40 Extended, suitable for five operators working.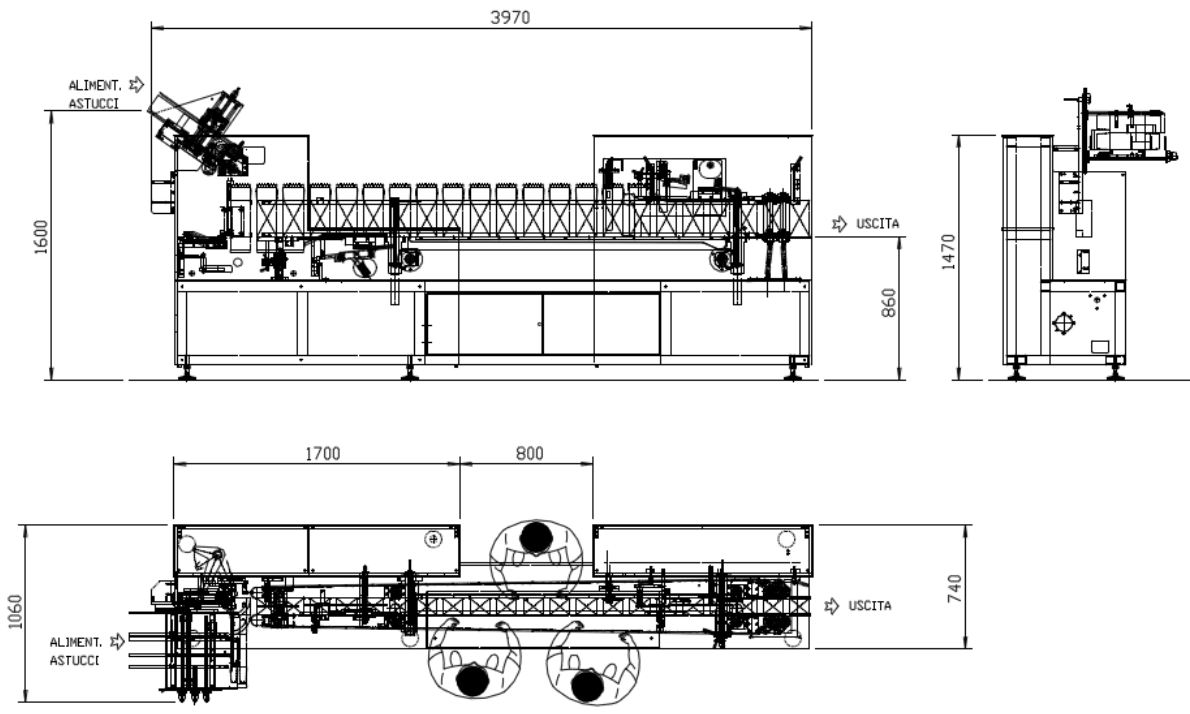 Options:
Automatic feeding systems tailored according to specific requests.
Automatic feeding system for protective liners.
Leaflets variants (pre-folded, flat, from reel).
Booklet and object insertion.
Automatic reject of incomplete cartons.
Automatic size changeover adjustments.
Wide selections of coding systems (embossing, ink-jet, laser etc.).
Variants of cartons closure (tuck-in flaps, glue flaps, tamper-evident etc.).
Variants of cartons style (cartons with inner partition, cartons with 5th panel, cartons with hinged lid, sleeve etc.).
Separate double discharge.
Modem for trouble shooting.
Validation documents (IQ, OQ e FAT) supplied according to the customer's request.
Connection to host computer.
Technical Data:
Size range

A = min. 20 mm – MAX. 120 mm
B = min. 20 mm – MAX. 100 mm
C = min. 50 mm – MAX. 200 mm

Size changeover = OPERATOR FRIENDLY
Fast and reproducible adjustments through scaled spindles with hand wheel and digital indicator plus operator guidance via operating terminal
Mechanical speed = up to 40 to 60 Wraps per minute
Installed Power (Basic machine) = 2,8 KW
Air consumption (Basic machine) = 50 NI per minute
Air pressure = 6 bar
Approx Net weight = 1250 KG
Noise level = <72dB